Best Banjo Under $500 That You Can Buy Online - For Sale in 2020: Complete Guide
Trying to find the best banjo for you is no mean feat. With a seemingly endless selection of styles, prices and types to troll through it can be quite a mind-boggling experience. Especially as you are investing in a reasonably expensive piece of equipment. You want to ensure you receive the best banjo that suits you for sale at fair, cheap price….
That's where we come in!
If your new to the Banjo we recommend that you head over to our article on the Best Banjo for Beginners.
Our intention is to provide you with a summary of all the information you need to pick the best banjo for sale at a great price. With the help of extensive research, we deliver the top banjos for you on a silver platter:

Best Banjo Under $500 Summary Table
Key Features:
22 fret maple neck and hardwood inlays
Adjustable Deering Tailpiece
Three-ply maple 11 inch rim
Lightweight
Renowned for being the best banjo brand, Deering have maintained their reputation by producing this delightful, top notch banjo.
The fret work is accurate to allow for ideal intonation across the fingerboard. The high quality crisp sound is a result of the 11 inch rim. This open back banjo produces a sound consistent with banjos well above its price range and is made and produced in the US. Whether you're a banjo beginner or a more advance player you can't go wrong with the Deering Goodtime Banjo.

Key Features:
Powerful mahogany resonator
Rolled steel tone ring
Lifetime warranty
Rich sound for serious Banjo players
The fender Concert Tone Banjo is the most affordable banjo for sale in the series. However, this doesn't mean that they have cut back on the quality features. In fact, this Banjo is suitable for professionals thanks to its high-grade features such as a Rich sounding mahogany resonator, rolled steel tone ring and aged binding trim.
As well as providing high clarity sound and comfortable feel, one of this banjo's best features is its beautiful style. The vintage pearl blue green abalone inlays offer trendy aesthetics for a banjo of this price. The build quality and durability our assured with a lifelong warranty to put your mind at rest.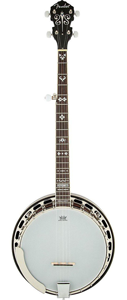 Key Features:
Mahogany Ring Body and resonator
Perfect for Bluegrass
Ebony tipped maple bridge for accurate articulation
Chrome armrest for comfort
The glossy mahogany resonator aids enhanced volume and projection whilst the maple bridge produces a bright tone. The balance between the punchy sound with easy fingering rosewood fretboard and the competitive price makes this the best banjo for sale for the budding Bluegrasser.
Washburn have been making banjos since 1883 and is a reputable brand for banjos in the US. You need not worry about its build quality as Washburn hand construct their banjos and deliver premium build quality for not so premium price

Key Features:
Maple neck and resonator
Low action two-way adjustable tailpiece
5 string cripple creek banjo
Maple Tone ring
Packed full of high spec features such as the adjustable tailpiece, maple tone ring and brass truss rod this banjo provides incredible 'bang for the buck'. This banjo is geared towards a diverse range of banjo abilities. This is one of the best beginner banjos due to its fantastic tone and playability.
Customers love this cripple creek banjo and have had praise for its premium resonance, pitch, tone and string height. For easy, customisable playing a banjo requires a truss rod, two coordinator rods, geared tuners and a good tone ring and this banjo has the lot and more. Buy this banjo for an assured, quality experience.

Key Features:
Adjustable Coordinator Rod
Two-way truss rod
Classic vintage sound and style
Multi-ply rim
This cheap and cheerful dirty thirties open back banjo provides a great balance between classic sound and historically accurate design with the bonus of upgraded specs for playability. The inclusion of a rosewood fretboard, coordinator rod and multiple ply rim makes this a remarkable banjo for the price.
This particular banjo is the perfect instrument for folk musicians and singer song writers. If you're looking for a traditional 5 string open back banjo that is accessible to a variety of abilities, then this is the one for you.

Key Features:
Capoing spikes on 3 frets
Three ply maple rim
Stunning reviews
Planetary pegs for easier tuning
This classic up spec'd version of the goodtime banjo features a more traditional open back which is surprisingly loud considering the lack of a resonator. It comes from Deering so you know its built well and will last. This banjo for sale towards the $500 mark features planetary tuners and a brown stain colored finish.
Praised for its 'flawless craftsmanship' this banjo is a beauty with its Deering peghead shape. It has been recommended for small crowd live performances due to its high volume and lightweight, comfortable design

Why choose a 5 string Banjo?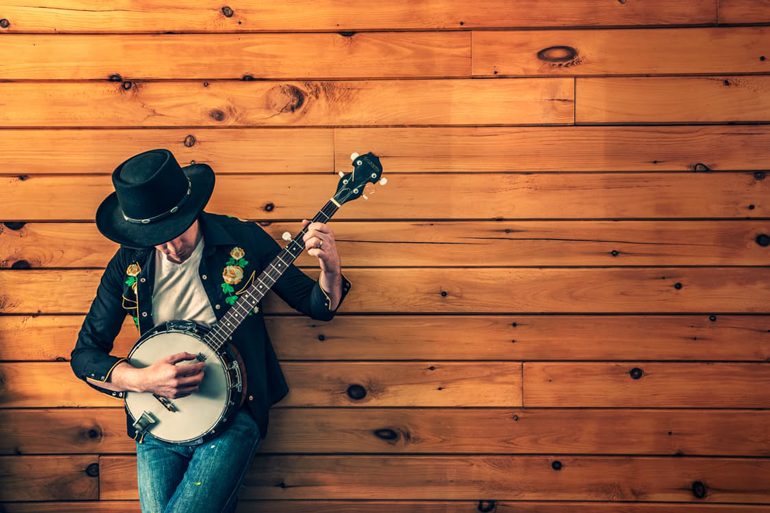 You may have noticed that every instrument in the above best banjos list is a five string banjo. Why is this?
Whether you are an existing or beginner banjo player you should be wary of the benefits of playing the 5 string banjo. For starters, it's the traditional way! The classic Banjo was designed with 5 strings. Popularised by Joel Walker Sweeney, the five string banjo soon became a folk favourite from the 1830's onwards and was enjoyed by all classes of society.
The fifth string is shorter than the other four which allows it to be tuned to a open and higher pitch. This variation in strings and unique design gives the banjo its trademark sound. However, there are many different styles that can be played on the five string banjo unlike the 4 and 6 string variants. These include; Clawhammer, Frailing, bluegrass, classic, fingerpicking and more.
Key benefits
Versatility
Popular sound
Historic, classic design
Top Picks - Banjo for sale 2020
BanjoSessions.com participates in the Amazon affiliate programme which provides websites a means of earning advertising fees by linking to Amazon.com