Best Beginner Banjo 2020 You Can Buy Online (Top 4) 5 String Banjo Buying Guide + Reviews
Scroll to the Bottom to see our Top Picks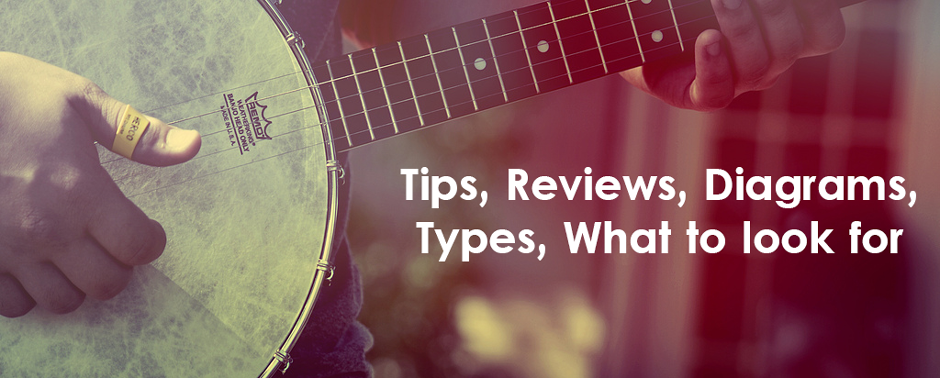 If you're looking for the perfect beginner banjo then congratulations, there has never been a better time to start learning.
A new wave of cool, funky banjo inspired music is upon us thanks to artists such as Mumford and Sons, Led Zeppelin and even Taylor Swift. Incidentally, if you are more of an intermediate banjo player or just want to see some slightly higher spec banjos then visit my article on the Best Banjo Under $500.
There is also a plethora of new guides and information online which can help transform you from a banjo beginner to a pro in no time at all.
However:
The mountain of information on the web concerning the best way to start playing the 5-string banjo for beginners is a confusing minefield of information that can leave you feeling queasy.
Luckily for you, I have put together the ultimate guide to picking the best beginner banjo for you. Whether you are starting a new hobby, diversifying from the guitar or just love the banjo the are numerous details that need to be considered:
The below article provides simple steps to identifying the best 5 string banjo for you:
Open V Closed Back

Banjo Types

Banjo Anatomy

How to Choose

4 Best Banjo Reviews

Our Top Pick

| | | | | | |
| --- | --- | --- | --- | --- | --- |
| Name | Image | Type | Price | Rating | Comment |
| Jameson 5 String |   |  Resonator |  $ |  4.6 |  Cheap option with great features (Geared Tuner) |
| Deering GoodTime | | Open-back | $$ | 4.7 | Reliable, Popular, Well made |
| Epiphone MB-200 |   |  Resonator |  $$$ |  4.5 |  Light Weight, Reputable Brand, Good Features |
| Gold Tone CC-100R | | Resonator | $$$ | 4.8 | Amazing Features for the price. Suitable for beginners through to pro's |
Save
2. Open vs Closed (Resonator) Back
Before choosing your ideal beginner banjo you should be aware of the differences between Open-back and Closed-back banjos. Although the basic design is very similar, they both sound very different and produce varied volumes.
No Back Cover, open sound chamber

Low Volume

Classic, original Banjo design

Light

Usually played Clawhammer style

Fingerpicks are not required

Soft, mellow sound for traditional, mountain style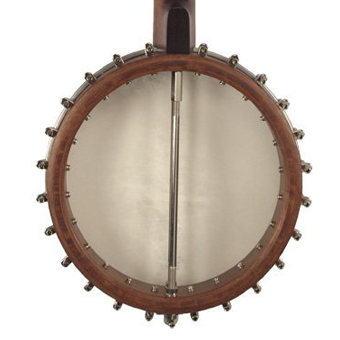 Closed-Back (Resonator) Banjo
Wooden 'bowl' resonator covering the sound chamber

Projects sound towards an audience (Loud)

Heavier than open-back

Preferred Choice for Bluegrass players

Twangy, bright sound

Fingerpicks can be used

Strings usually placed closer to the fretboard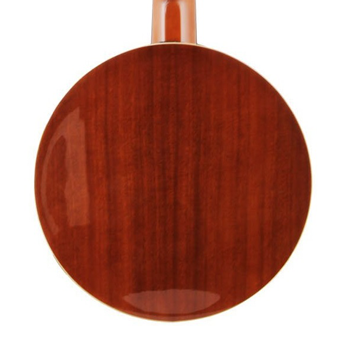 Despite what you might think, these banjos do not need to be played as a base instrument. They are in fact played in the following styles: Chord melody, Chordal Accompaniment, Tremolo, Single string melody and Duo style!
There are two types of these perhaps unorthodox banjos:
One is the Plectrum Banjo which as you may be able to guess is played like a guitar with a pick and has been utilised for jazz.
The other is the Tenor Banjo which has a shorter neck. Popularised in 1910 this banjo has short scale frets and is mainly used for chordal Accompaniment.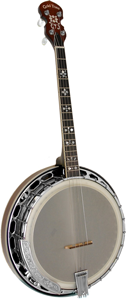 5 String Banjo (Recommended)
This is suggested as the best beginner banjo due to its popular design, playability and tradition.
The 5-string banjo is the original. It was made popular in the 1830's and featured a specialised, unique string which was shorter in design and allowed the banjo to be tuned to a higher, open pitch.
In addition, the five-string banjo will allow you to elicit the trademark, popular sound that this instrument has brought to the world.
It's a favourite for Clawhammer, Frailing, Bluegrass, Classic and Folk players and provides plenty of versatility.

Six-string banjos behave in a similar way to your average guitar in terms of playability. Therefore, they could be a good option for converts!
The main difference is that whilst they are composed a lot like a guitar in terms of the strings, the six string banjo still sounds exactly like a banjo (twangy and bright).
They are offered in open or closed back variations and there are even electric banjos for sale with 6 strings. A word of warning though, if this is your first strung instrument, they will take longer to master than your average 5-string banjo.

Please do not let your head explode looking at the below diagram. It is simply provided for reference so that you can learn about the construction and parts of a banjo if you would like to.
It is important to gain a baseline amount of knowledge before buying the best beginner Banjo for you.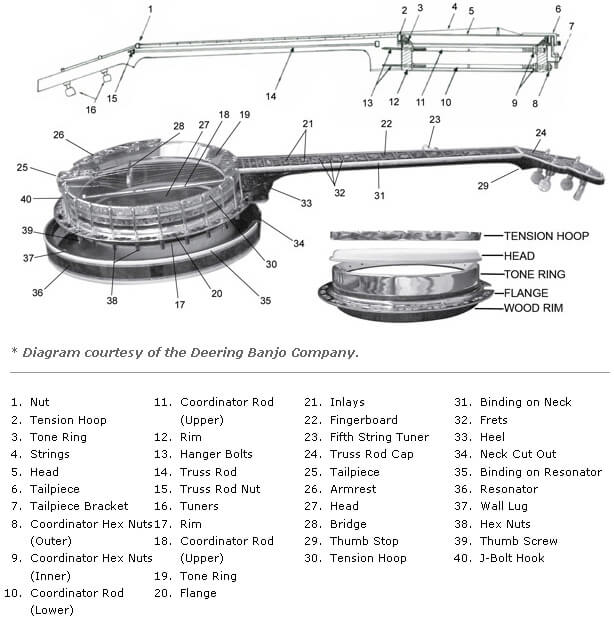 If you're more of an audio visual-learner, I have provided a video walk through of the parts of the Banjo courtesy of VideoJug below:
5. How to Choose the Best Beginner Banjo
Spending some time identifying the correct specifications of a banjo for beginners can really pay off.
The following list is designed to help you to come to terms with what exactly makes a Banjo 'good':
Key Features to look for:
Tuning - Geared Tuners are best for beginners as they allow for easy tuning and can prevent the Banjo falling out of tune
Multiple Coordinator Rods - This can facilitate a high-quality tone
Truss Rod - This stabilizes the forward curvature of the neck
Wood - Maple can produce a sharp sound clarity while Mahogany offers a warmer tone, Walnut is an alternative option that produces a sound somewhere in the middle
Brass Tone Ring - A good tone ring can make a modest amount of difference to a Beginner Banjo
Adjustable features - These are a bonus as they allow you to customise the sound to a certain degree
Multi-layer Rim - This can make a big difference to the sound
6. Best Beginner Banjo Reviews
Key Features:
Cheap Banjo with not so cheap features

Geared 5th Tuner

Mahogany Resonator

Adjustable Tailpiece
If you're on a budget then this is the best banjo for beginners. Not only is it very affordable but it comes with a host of great features.
It has a; geared 5th tuner, mahogany resonator, adjustable tailpiece, 3 ply maple rim, a maple bridge and glossy finish. These are top quality features.
The Jameson 5-string banjo has received top notch customer reviews and is a great starting instrument for you to come to terms with.

Key Features:
3 ply Maple rim

Adjustable Tailpiece

Lightweight

Geared Tuners
Deering is the highest rated reputable Banjo brand. They also make their Banjos in the USA.
This Banjo backs up their high-quality status due to its clear, bright sound that is produced in part by its 3 ply 11 inch maple rim. To add to this, it's perfect for beginners because of its accurate fret work allowing for great intonation and playability.
With top notch reviews and stunning build quality, this Banjo is bound to serve you well as you progress.

Key Features:
Mahogany Body

Rosewood fingerboard

Geared Tuner

Sounds great out of the box
An all-round great Banjo for beginners. Coming with a US Remo head, Mahogany body and geared tuners it is hard to go wrong with this beauty.
The specs are complimented nicely with stylish floral inlays and a vinatge, refined look. The Banjo is adjustable enabling you control over the sound. Users have said that it sounds like a banjo should and requires minimal setup due to its manufactured settings.

Key Features:
Maple Resonator and Body

Two-way adjustable tailpiece

Maple Tone Ring

Truss Rod
This Banjo has been built by highly by Gold Tone who have a great reputation with their banjos. The CC-100R can accompany you throughout your climb in ability thanks to its remarkable specs. Its terrific sound and playability allow for a status as a great banjo for beginners.
This Banjo is incredible value for money with its adjustable tailpiece, geared tuners, tone ring, two coordinator rods and more. Its the most expensive on the list but appears undervalued considering its specs.

7. Top Picks - Best Beginner Banjo 2020