Online Banjo Lessons Review (Top 4 Online Resources) Learn the Banjo the simple way
It's a real privilege to live in a time where we have such great access to resources such as online Banjo lessons to help us learn and develop. Thanks to the internet and the advancement of technology it is now easier than ever to learn the banjo without the struggle of searching far and wide for a good instructor or having to self-teach.
However, before you consider what the best banjo lessons online are, its crucial to ensure that you have a selected and purchased a good quality Banjo. Especially if you are just starting out with learning the Banjo.
Please head over to the Banjo Sessions Ultimate Guide to picking the best beginner banjo to aid in your decision to picking the best Banjo for you.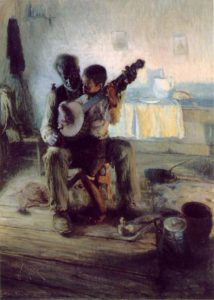 Is it Easy to Learn the Banjo?
The short answer is Yes and No!
It's a highly-debated topic due to the variety of methods involved in playing the Banjo but here is a neutral, holistic viewpoint:
Comparably, the Banjo may be considered easier to learn than instruments such as the Guitar due to the fact that your average 5-string Banjo has one string less than a guitar. Therefore, there are less variations of string patterns to play and the neck width is thinner making it perhaps easier for smaller hands.
On the other hand, the range of techniques used to play the banjo offer varying difficulties. For example, the five-string Scruggs style finger picking as well as basic chord strumming are pretty easy when you come to learn the Banjo. However, Frailing and Clawhammer that tend to be the more traditional methods of playing are considered to be fairly difficult. To add to this a banjo player may need to come to terms with banjo picks.
20 Hours to Learn the Banjo!
According to Josh Kaufman's research, the human brain only requires 20 hours to become 'good' at pretty much anything. In his TED Talk where he demonstrated his new-found ability to play the Ukulele.
I don't know if you have ever heard of the 10,000-hour rule? This was research conducted by Malcolm Gladwell which seemed to suggest that to become an expert at something it requires 10,000 hours' practice (Basically 5 years full of full time practice!)
However...
Contrastingly, the research carried out for this Ted Talk suggested that it may take that long to get to the top of a competitive, niche field but to actually acquire and become 'good' at a skill such as learning the banjo for instance with online banjo lessons it only takes a mere 20 hours.
Below I have listed four best practices that relate to learning the Banjo, or any other skill for that matter:
Deconstruct the Skill – Break down the skill in to manageable chunks
Learn enough to correct yourself – Get better at noticing when you make a mistake
Remove barriers to practice – Take away any distractions, try not to procrastinate
Commit to 20 hours' practice – Don't judge yourself before you have practiced for 20 hours
"The major barrier to skill acquisition isn't intellectual…. it's emotional."  (Kaufman, 2013)
Best Online Banjo Lessons Resources
| Name | Description | Price | Rating |
| --- | --- | --- | --- |
| LessonFace.com | Live Video Conferencing Banjo Lessons with your own pre-selected teacher | Check Price | 4.7 |
| Tony Trischka | ArtistWorks.com | 100's of banjo lesson videos, custom feedback via video submission, Worldwide community | Check Price | 4.8 |
| BradleyLaird.com | Index of free Banjo videos spanning from banjo setup to song covers | Free | 4.6 |
| Tabledit Tablature Software | Software for creating, printing, editing, listening to tablature and it also plays tablature files in real time so you can hear as you try to play | Check Price | 4.7 |
Online Banjo Lesson Reviews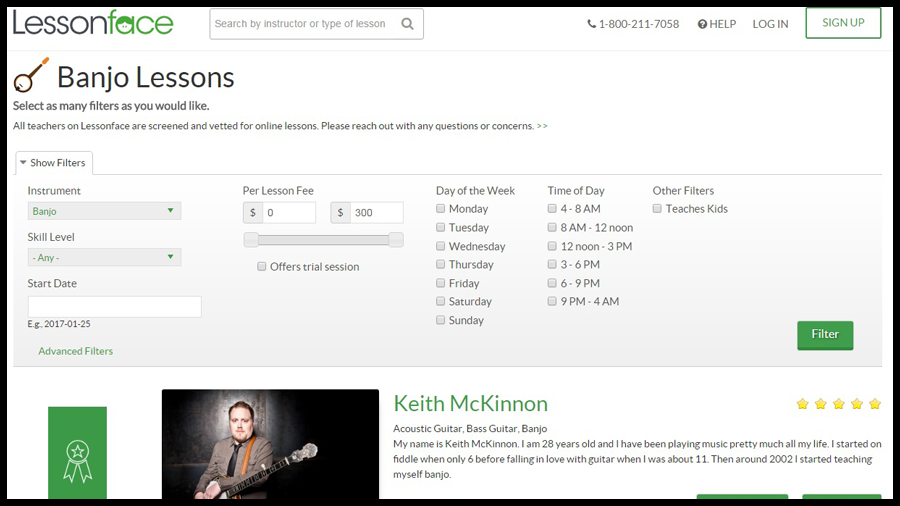 Use computer or tablet with webcam to receive real time, face to face instruction from a qualified Banjo Teacher
Every teacher on LessonFace is vetted for their suitability as your teacher
For all ages, safe and friendly learning environment
100% Money back guarantee if you don't like your first lesson so its worth a try at least!
Full interaction, you can ask your teacher a question before the online banjo lesson even begins
User friendly specialised online video software for music lessons (tech support is available)
Choose your teacher - You can select your favourite teacher for your lesson by viewing their profiles for free
2. Tony Trischka | ArtistWorks.com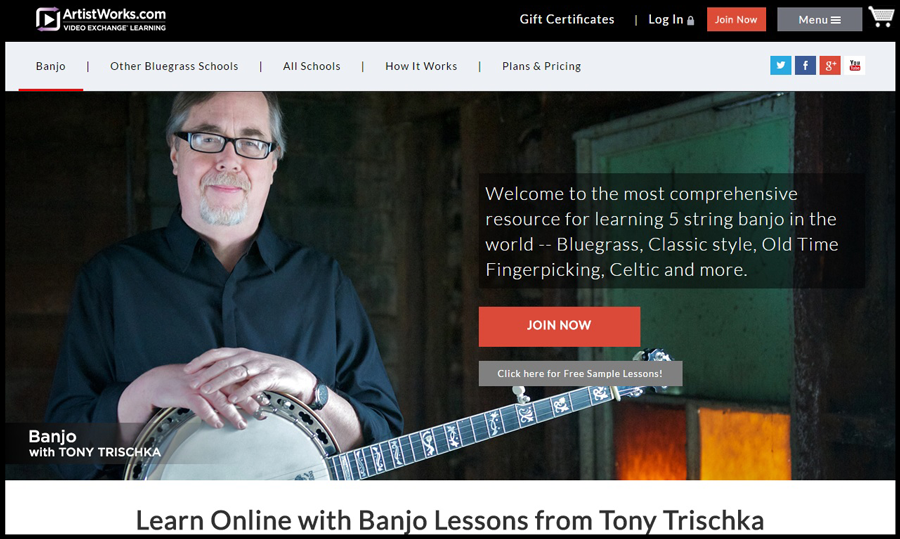 100's of Online Banjo Lesson Videos aimed at specific styles to suit your needs
For any ability and style, anybody is welcome
Video Exchange Learning - You can submit practice videos and receive personalised feedback from Tony to help you improve
The videos can be adjusted to play in slow motion or loop so that you can play along
Worldwide Community - Great platform for banjo players to learn from others and share their progress
Tony is a great teacher and has released three solo albums himself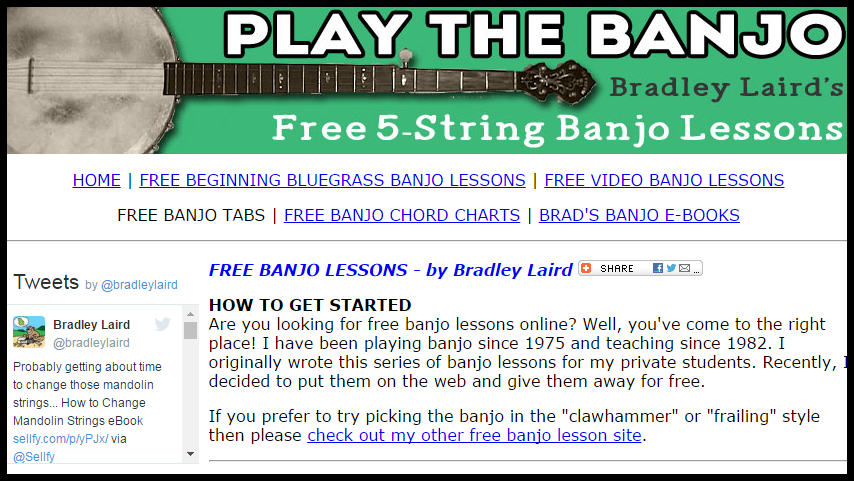 Index of free banjo lessons online in video format
From the parts of a Banjo to advanced techniques
20 Lessons in total with 2 hours of video
Learn the Banjo for free

4. TableEdit Tablature Editor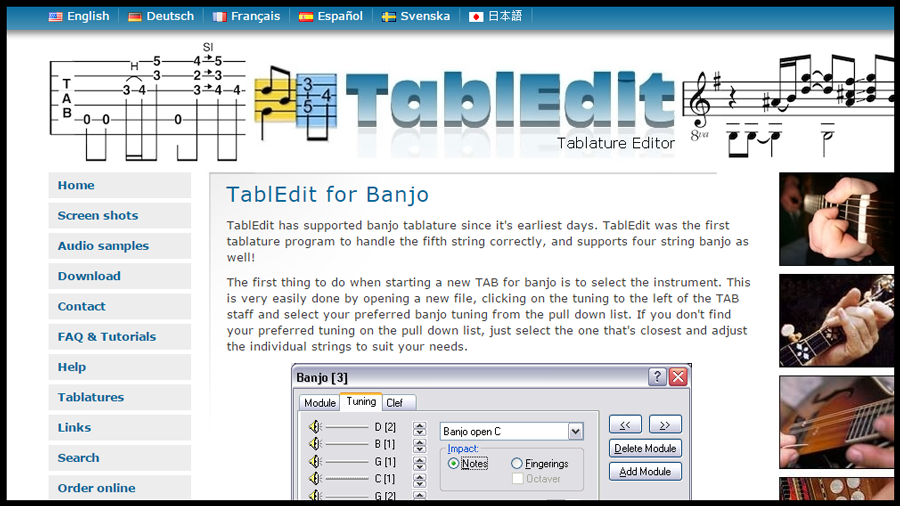 Specialised software for creating, editing, printing and listening to tablature
Plays tablature files in a way that allows you to hear and play at the same time
First software specifically designed to handle the 5th string of the Banjo
Can convert what you play on a MIDI instrument into tablature
Supports standard notation as well and offers high quality printouts of tablature